Manager Notes
Manager Notes make it easy to track a worker's performance. The note or review can be linked to a particular shift, attributed to their work on a specific team, or used to make a general comment.
Managers can create notes in a member's profile directly or by using a bulk upload template. Reviews are qualitative with tagging options that can be filtered. The Account Scoring tool adds a quantitative aspect by issuing a numeric score to each review. Shiftboard will show the average score.
Manager notes are kept private from individuals and are only viewable by Site Administrators and Team Managers. Members can never view their own manager notes regardless of their access level to the site. 
Review Types
Shiftboard provides the ability to customize the review labels within the system. Not only is it a quick way to label the comment or review, but it is another piece of information that goes into the report. This makes it easier to group types of reviews and gives another option to sort.
Custom Fields
Custom fields are also available on manager notes. There are a variety of fields to choose from including yes/no dropdown field, custom drop-down boxes, and open text fields. Each custom field can be labeled to match an organization's needs.
Set-Up
Take the following steps to setup Manager Notes and Reviews. If you do not see this feature on your site, reach out to Customer Support for assistance.
Manager Notes
Go to Settings > Application Settings > Manager Notes
Update settings for manager notes and add custom fields. Select Update when finished to save your changes:

Reviews
To add reviews to the site, select Edit Review Types on the right-hand side: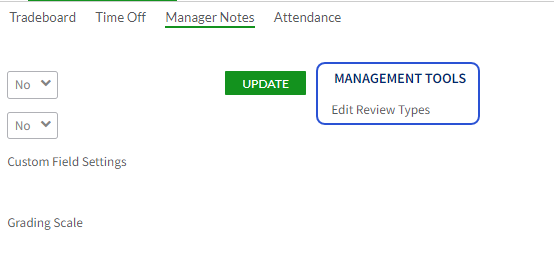 You can add new review types or edit types that have been created already:

---
---