iOS Mobile App
Overview
Available on the iTunes App Store, Shiftboard's iOS app allows mobile staff to view their schedules, manage their shifts, and clock in and out directly from their mobile device. To download the Shiftboard app, look on the iTunes App Store and search for Shiftboard Online Scheduling. 
Logging In
The iOS app allows you to log in using Touch ID or Face ID if enabled on your device. You can also log in using your active Shiftboard email address and password

.
Profile
Shiftboard members can easily update profile settings such as email address, contact information, and passwords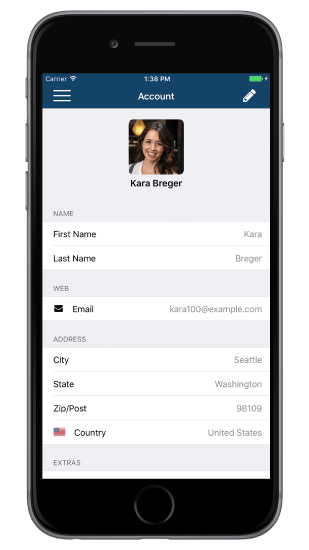 Navigation
To navigate through the app, members can tap on the menu icon (three parallel bars) at the top left of the screen. This will reveal the app navigation menu. Using the navigation menu, Shiftboard members can view team information, check their schedule, adjust their availability, manage account details, and clock in or out (time clock option will only appear if the Site Administrator has enabled the Time Clock tool).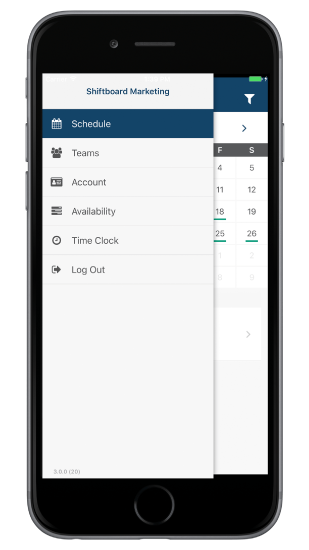 Calendar
Members can use the app calendar the same as they would on a desktop. When viewing the calendar, the colored bars underneath the dates indicate the shift type. Shiftboard members can filter the types of shifts they want to view. For example, if a member only wants to see available shifts, they can tap on the filter icon at the top right corner of their screen. The filters allow the member to view all shifts, assigned shifts, confirmed shifts, available shifts, traded shifts, and time-off dates. They can also filter by team information.
Tapping on the shift will reveal the particular details of that shift. Members can view shift details like team assignment, time, date, location, shift supervisor, notes, and many other custom fields. If there is a location attached to the shift, members have the ability to tap the location to open the address in their map application and get directions if needed.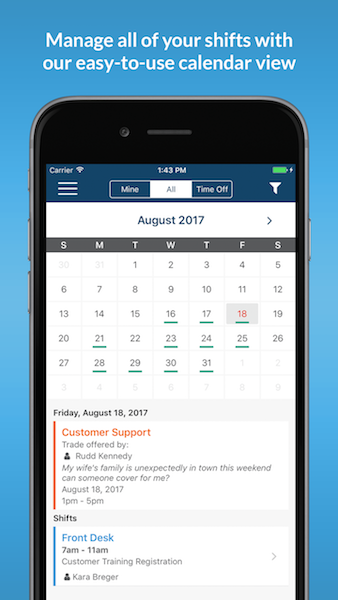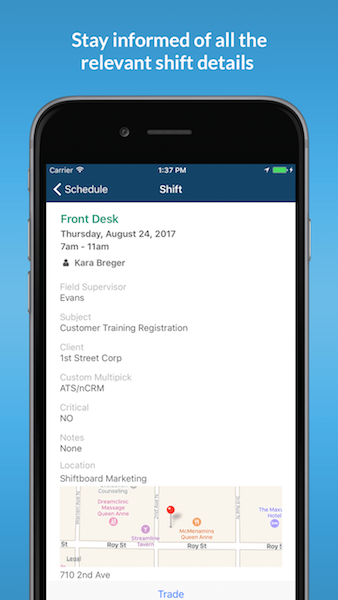 Members will want to use the calendar view when requesting Time Off. To request time off, members must first tap the Time Off tab on the top of their screen in the calendar view. From there, tap the blue + button that appears on the lower right part of their screen.
Time Clock
If an organization's Site Administrator has enabled the Shiftboard Time Clock tool, members have the ability to use the app to clock in and out for their shift.
To utilize the Time Clock, members should go to the navigation menu in the top left corner of their screen and tap the Time Clock option. Simply tap the appropriate shift and a pop-up box will appear. This window is where members will tap the clock in or clock out button. The app will indicate if the members were successfully clocked in/out for their shift.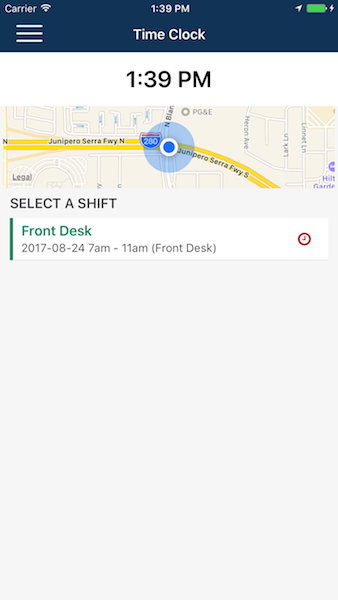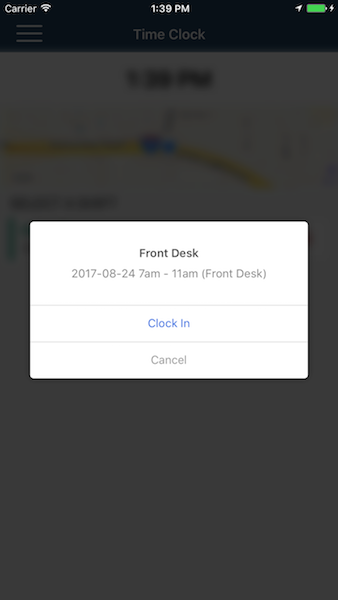 ---
---