Absenteeism
No Show / Absent
The No Show / Absent option lets managers track whenever members do not show up to their assigned shift. If this tool is enabled, a no show shift will have a strikethrough on the employee name after marked as a No Show.  To enable the No Show / Absent tool, click the Settings gear > Application Settings > Calendar >"No Show" / Absent Tools. In the dropdown, you can simply enable the no show / absent tool, or you can enable the tool with reason codes.
Reason codes can be whatever fits your organizations's needs, but common reasons are Emergency, Sick/Illness, or No Reason. If you enable "No Show" with reasons code, you can manage the No Show reasons by clicking the No Show Reasons text next to the setting dropdown.
Once you made enabled this setting, click update at the top of the Settings page.

Underneath this setting, you can choose if you'd like shifts marked as a "No Show" / Absent to be automatically marked as a draft shift. If you do this, the person that was previously assigned to the shift will no longer see the shift on their calendar when they log in, however it will still be visible to anybody with a permission level of a Coordinator or higher. 
Marking No Shows / Absences
Once this tool has been enabled, you have the ability to mark when members do not show up to an assigned shift. You can mark no shows for past, present, and future shifts. There are two main ways to do this.  The first is for when you need to mark a no show for a day of scheduled shift. Click the Who's On Button > Scheduled. From the pop up screen, you can click the mark no show button.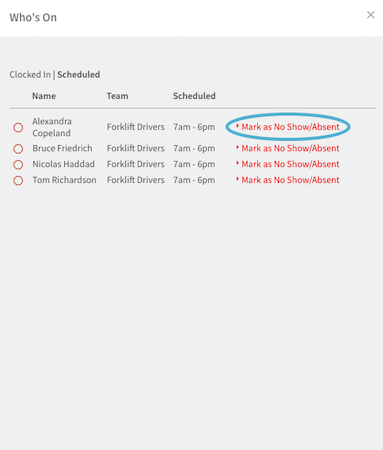 Now, an additional pop up screen will appear and if you have reason codes turned on, you will be able to select a reason, then click mark no show. If you are not using reason codes, simply click mark as no show.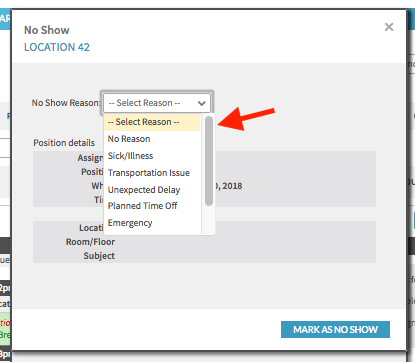 The second is by marking no show from the calendar. To do this, go to Calendar > Schedules. Click on the shift that you need to mark as a no show / absence. In the box that appears, click the mark no show text.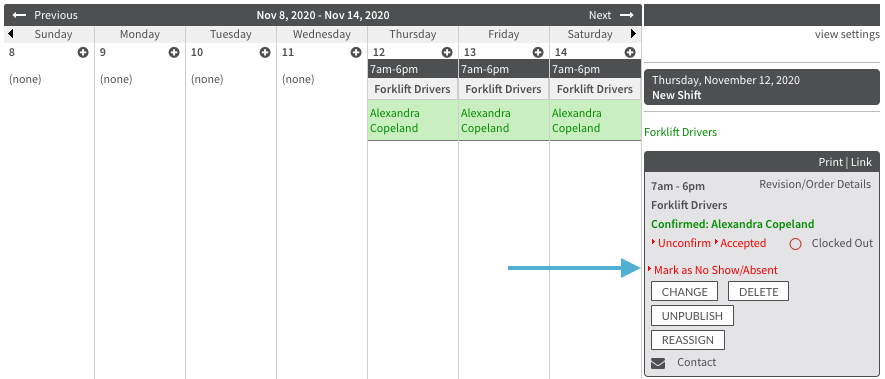 Once you click this, a box will appear. If you have enabled the reason codes, you will select the reason for a no show on this screen and then click mark as no show. If you have not enabled reason codes, simply click mark as no show.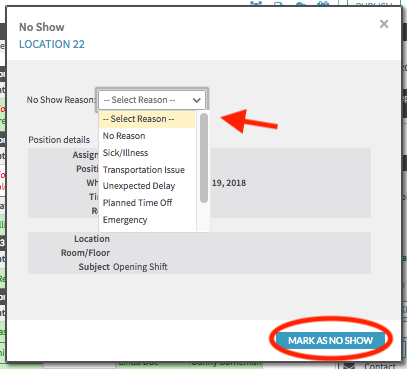 No Shows / Absences as Drafts
If you chose to update the setting to have no show shifts automatically marked as drafts, the shift will change from a green, confirmed shift to a black draft shift. The employee name will also have a strikethrough for a quick visual representation of the no show. 

No Show / Absent Report
You are able to run a report on no shows as well as the corresponding reasons for the no shows if reasons are enabled. To access this report, click the Report Icon > Shifts > Shift Schedules. On this screen, fill in the date range that you would like the report to pull information for. Then, click the filter dropdown and select attendance. An additional box will appear with an attendance dropdown. In the dropdown, select No Show. If no show reasons have been added, you can filter your report further by specific reasons. Next, click Get Report. The information that appears is just an overview of the report information. For full details, click the download button to export a copy of the report.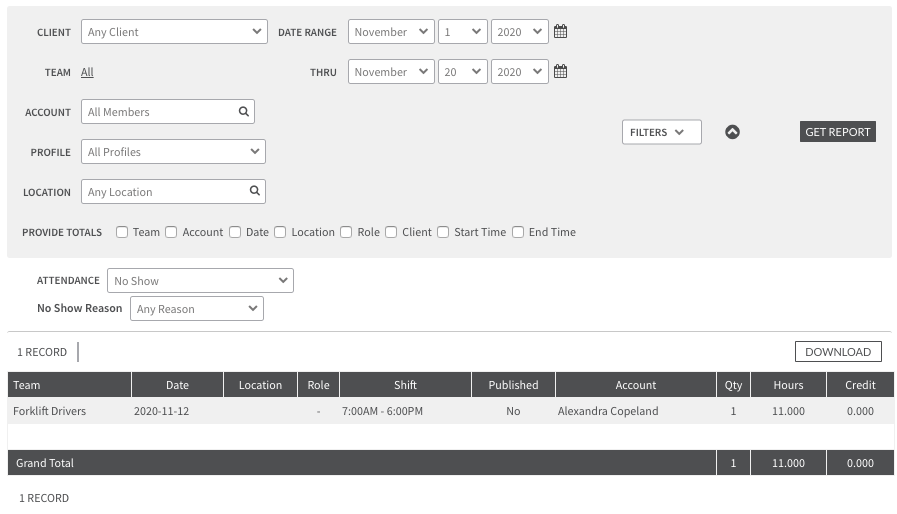 ---
---