Timeclock
Timeclock Setup
To configure the timeclock and determine when and how members can clock in, go to Settings > Application Settings > Timekeeper.
Associate Timecards/Clock-Ins with Shifts
Restrict Clocking In Earlier Than
Restrict Clocking In Later Than
Automatically Clock-Out
Associate Timecards/Clock-ins with shifts
When members clock in or submit a timecard, they can be asked to associate their work with a specific shift. 
"Never" means that the member isn't asked about a specific shift. A general timecard will be created for them without details from any assigned shift. 
"Always" means that the member must select a specific shift that they have been scheduled to work. All of the data for that shift will be associated with their timecard automatically.
"Sometimes" means that members have the option to associate their timecard with a specific shift, or to create a timecard without any shift information associated with it.
Additional Setup
To restrict the Timeclock tool access by profile type or team, go to Settings > General Settings > Security. Select one of the settings circled in red below to restrict who will have access to the feature.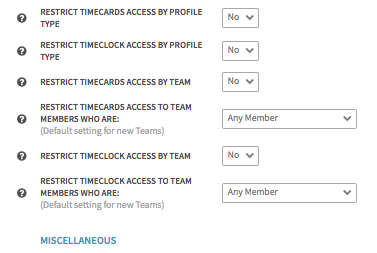 ---
---