Scheduling Breaks
Overview:
Break times can be tracked on each shift so that employees know what time their breaks should begin. Shiftboard also offers a breaktime scheduling tool to help you better optimize how many individuals are on break at the same time.
Enabling Breaks
To begin tracking breaks on shifts, you will first need to enable the break scheduler by going to Settings>Application Settings>Schedules>Provide Break-Time Scheduling Tools=Use Breaktime Scheduling>Update.

Adding Breaks to New Shifts:
Go to Calendar>Schedules>Add>Add Shifts- Single or Repeat Positions.

Fill out the shift details as normal. After filling out the shift start and end time, select Set Breaktime.

Now, you can name your break, indicate whether it is paid or unpaid, set the length, and set a start time. Once set, click the Add button. If a shift will have multiple breaks, you can add them all on this screen.


Now, post your shift to the calendar.
If you would like the breaktimes to appear on the calendar preview, you can customize your view.
As a note, once the breaktime scheduling tool is enabled, you will have the option to add breaks using the bulk upload template as well. You can also add a standard break to your shift coverage blocks.
Using Breaktime Scheduling
The breaktime scheduling tool lets you optimize your break times so that only a certain number of people have their breaks scheduled at a certain time. You do need to have existing breaks on your shifts to utilize this tool and the shifts do need to be assigned.
To use this tool, go to the Hour view of the Calendar and click the Break Scheduler.


This will ask you to indicate the target maximum number of people to have on break at one time. So, if you only want to allow two people on break at the same time, set that here. If you would like to avoid scheduling back-to-back breaks, select a buffer time. Once you've adjusted these fields, click Update Schedule.


The break times will be adjusted on the calendar for you. The breaktime scheduling tool will try to place the breaks as close to your originally scheduled breaks as it can. For example, if your breaktimes were originally set to 12:00pm, it will attempt to stagger the breaks as close to that time as it can with your parameters in place.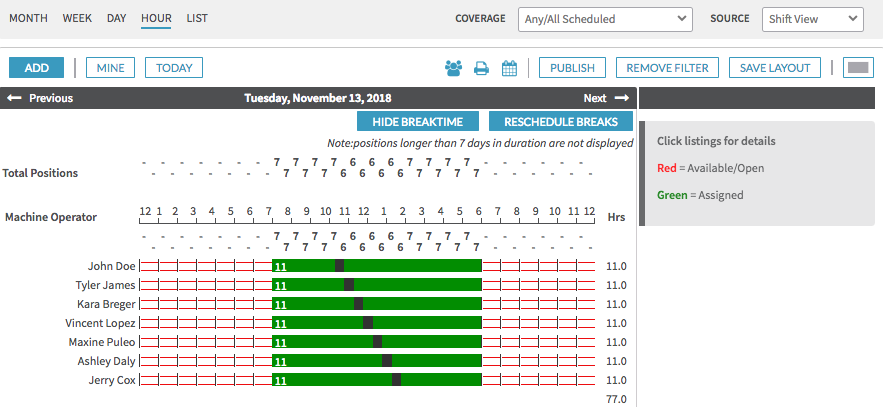 Helpful Hint: Before you utilize the break scheduler, you can filter your Calendar view to just show you the schedules for specific workgroups. This way, you can reschedule the breaks for different teams/workgroups using different parameters.
Break List Report
If you want to see the breaks on a report instead of on the calendar, go to Reports>Shifts>Break List. On this page, you can filter this for a particular team/workgroup. This will provide you with a list of all of the scheduled breaks on a given day.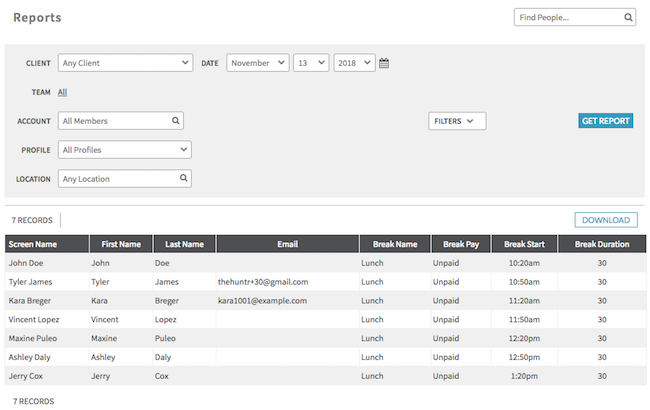 ---
---