COVID-19 | Shift Solutions
Overview
COVID-19 has created additional scheduling challenges for many of our customers as they work to respond to increased or reduced demand for workers on shifts, and a higher incidence of short-notice worker callout from assigned shifts. 
Shiftboard provides several tool-sets to assist you in managing this rapidly changing environment. This document reviews the most important tools available to help you ensure shift coverage, and respond quickly to labor changes. This document reviews the concept of Flex Pools and how to enable them in Shiftboard, the Team Standby Notifications feature, and the Absenteeism tool. Each of these tools can be used independently, or in conjunction with one another, to improve your shift coverage. 
Enabling Flex Pools in Shiftboard 
A Flex Pool is a group or subset of employees that can help meet spikes in demand or extra need. The benefit of flex pools is that it allows you to quickly source qualified employees to meet increases in demand that can occur within your business. 
Another benefit of creating a flex pool is decreasing the scheduling burden on your administrative staff as you will be allowing your workers to assign themselves to the shifts they want to work and you don't have to worry about calling people to fill shifts.
It is important to understand that a Flex Pool can mean different things to different people, and Flex Pools can be set up somewhat differently based on those needs. However some elements will always be present: most importantly that Workers will have the ability to pick up or sign up for open shifts themselves.
This section discusses the types of Flex Pools you can consider, the types of workers that can be considered a flex pool, and how to set up Shiftboard to support a flex pool. Finally, we will discuss various features that can be enabled so you can quickly put a flex pool in place for your organization.
Flex Pools are typically one of three types:
Flex Pools to cover only additional labor demands over and above the regular schedule. These shifts are created for flex workers only - they are kept separate from the regularly scheduled employees
Flex Pools to only backfill shifts in the regular schedule as needed based on regular schedule workers not being available or on vacation
Flex Pools to cover both scenarios above, from the same Flex Pool
Flex Pools can be made up of different types of employees:
A group of employees that are hired with the intent of having a completely flexible schedule either full time or part-time
A group of employees that has some regularly scheduled hours and they are able to fill in as needed
Your full time employees may also be included in the Flex Pool if they are allowed to work some amount of overtime (voluntary) to help meet the demand
How you set up your Flex Pool will depend on what you are looking to accomplish with it:
If you intend to create shifts that are for your flex pool only > Create a team called "Flex" and add all your flex workers to the team
If you want to create shifts that are for only your flex workers AND also have them back fill shifts > Create a team called "Flex" and all flex workers to the team> and add people to all the Teams or Groups that they are qualified for
If you want the flex pool to backfill shifts and you 
To set up a flex pool in Shiftboard, create a team. Assign your flex pool workers to that team. 
Examples of how different industries might use Flex Pools: 
Filling extra shifts (Distribution). Your warehouse is open Sunday-Friday but when you have spikes in demand you need to fill extra shifts during those days as well as the occasional Saturday. You want to make sure that the people coming in are qualified to help in the areas that you need. You have placed all your employees in all the Groups that they are qualified to work the associated shifts so they are able to see all openings. 

Full time workers: By allowing people to work more than 40 hours (could be 45, 50 or more) they are able to take additional shifts to help accommodate the demand. Or they can have some hours that are assigned and you allow them to fill out the rest of their hours based on your needs and their availability.
Part-time or Flex workers: Can be allowed to take shifts based on your demand and their availability. 

Back filling shifts (Healthcare). A provider (i.e. nurse or physician) calls out of a shift they were previously scheduled to work. You need that shift to be filled in order to meet your contractual obligations. 

You have hired people to be in a Flex Pool  - they are members of each Team or Group that they are qualified  for and when they see those shifts are available they are able to assign themselves to work the shift. They are provided all the necessary details and your calendar is current.
You allow your employees to work more than 40 hours per week and they are members of all the Team and Groups that they are qualified to fill the shifts. When shifts they are qualified for become available, they are able to grab additional hours up until the limit you set (it could be 48 or 50 or more). 
Team Standby Notifications
Team Standby Notifications allows you to automatically notify employees of a shift opening. This will give your employees the ability to take released shifts without any manager intervention required. This enables quick coverage of shifts by employees who are interested and willing to work. 
To enable Team Standby Notifications as described above, go to Application Settings > Standby > for Use Standby List Type select "Team Standby Notifications" only and click on Update to save changes.

You can then enable and customize the Standby Notifications on a Team by Team basis.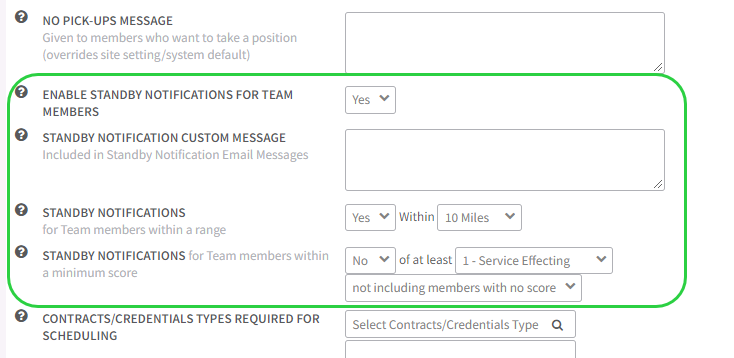 If you have Premium SMS enabled, your employees can receive text notifications (in addition to email notifications) and pick up these shifts from their phones. 
The automatic shift notification will occur when an employee is removed from a shift that is set to "Allow Pick-Up"  (Ex: a manager unconfirms an employee from a shift because they need the employee to work in another department that is short staffed -or- an employee's time off request is approved for a day that they were scheduled to work)  
If you do not see Standby available in Application Settings and you are a live customer, please reach out to your Shiftboard support to enable this setting. If you are a customer currently in implementation, please reach out to your Customer Support Manager. 
Please note that there are other Standby configuration options available that allow more control, but require additional setup. For additional details, see Standby.
Worker Callout (Absenteeism)
One of the most important aspects of running a successful Flex Pool is making sure shifts become available as soon as possible so that someone else can fill it. Shiftboard has an Absenteeism tool that is available to both workers and schedulers that makes this possible.
Schedulers are able to quickly indicate that someone has called out or dropped a shift, select the appropriate reason and, if the organization chooses, automatically create a new, unassigned shift and send out a notification to the appropriate Workgroup.
Workers may mark themselves as absent, from either the desktop version or on their phones, choose the appropriate reason and, if the organization chooses, automatically create and notify the Workgroup that there is an unassigned shift.
Whether the schedulers marks someone as absent or a worker marks themselves as absent (or calls out), you will have a reportable record of all the dates and reasons that people were absent or called out of a shift. 
To set up this tool go to Setting > Application Settings > Attendance:

Once you are in this area you are able to configure the tool to meet your organization's needs. When you are deciding on the correct configuration, it is important to remember that the rules you create will apply across the site.
You can choose how you want shifts that are marked as "Absent" (either by a scheduler or a worker) appear on the calendar. If you choose to mark them as draft, they will no longer be green. This can make it easier to identify who is not coming.
You can choose if Shiftboard will automatically create an unassigned, replacement shift and also send out a notification. Additionally you can choose parameters on when this should happen (varying from never, always to only if it is 12 hours before a shift starts).
You can choose who is notified when a worker calls out of a shift.
Additionally, you can Edit the call out reasons that appear as options, who can see them and when they are available to use. For example, you may want Illness to be available 24 hours before a shift but transportation/traffic to only be available a few hours before a shift starts. You have the ability to add or change the reasons that are in the site.

Note that if Worker Callout is combined with Flex Pools and Team Standby Notifications, you can trigger notifications from a Worker Callout that ultimately result in a Flex Pool worker picking up or signing up for an open shift.
---
---