Timekeeping ID and PIN
Timekeeping Tools
Some of Shiftboard's timekeeping tools are designed to function without having members log into the website. Specifically, Timeclock Shiftboard.com and Shiftboard's telephone clock-in system (IVR) are designed to use a numerical ID and PIN instead of a regular login and password. A member's user ID and PIN can be found by clicking on their name at the top right of the screen, selecting "Change Password," then selecting the "PIN Code & Access Information" option. Another way to access this information is by going to a member's account, clicking "Password/PIN," and then selecting the "PIN Code & Access Information" option.
User ID
A member's user ID is unique to an organization's Shiftboard site and cannot be changed.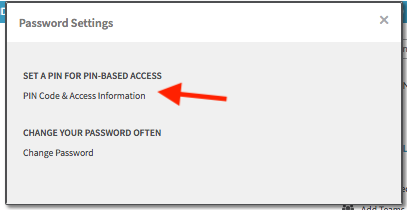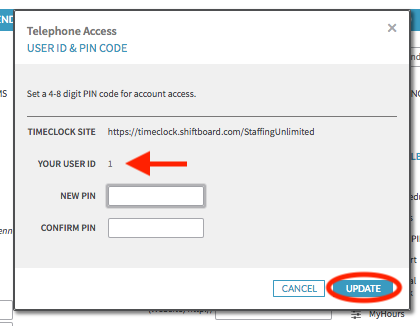 PIN
A member's PIN can be updated on the same screen where the user ID and address for your organization's Timeclock website is viewed. A PIN must be 4-8 numbers long. Since members may be using their PIN by calling via telephone, a PIN may only contain numbers. 
Other Tools
Shiftboard has many tools to give an organization more flexibility. Some of these tools require special setup that may require specific permissions or logging in using a particular method.
QRPassport
QRPassport allows members to scan a QR code to clock in or out. Most people will never need to log into a device running the QRPassport app, but a Site Administrator or other authorized member will need to log in and set up the device the very first time it is used. The settings for an organization will determine who is considered an authorized user.
The very first time the QRPassport app is used the authorized person must log in using their email address and password (not their user ID and PIN). Once set up, QRPassport doesn't need any new permissions to run and can be activated by anyone using the device. To return to the settings menu at a later time, an authorized user follows these steps:
iOS--Select "Menu," then log in with email and password. 
Android--Scan a Site Administrator's badge (which can be your own), then have that member log in with their email and password. 
---
---